Before we start, let's get to know more about IISMA
Indonesian International Student Mobility Awards is the Government of Indonesia scholarship scheme to fund Indonesian students for mobility program at top universities overseas. Undergraduate students could spend one semester at the overseas university partner to study, to experience the host country's culture and undertake practical assignments to hone their skills. The scheme is centrally managed by Directorate General of Higher Education (DGHE), Ministry of Education and Culture (MoEC) and is open for undergraduate students from all Indonesian higher education institutions under DGH.
THIS AWARD COVERS:
Registration & tuition fee
Transportation allowance
Living allowance
Health insurance
Visa allowance
PCR tests
IISMA 2022 registration requirements:
1. Active undergraduate students from 4th to 6th semester.
2. Minimum GPA 3.00.
3. Have an English proficiency certificate with minimum score of TOEFL iBT 78, IELTS 6.0, Duolingo English Test 100.
4. Not participating in any other exchange programs.
5. Recommendation Letter .
6. Passport with a minimum of 1 year active period.
IISMA 2022 application procedure:
1. Search for University information and course offers at IISMA platform https://kampusmerdeka.kemdikbud.go.id/web/IISMA
2. IISMA applicants are required to complete documents at the time of application on the page provided.
3. Proof of Indonesian citizenship (photocopy of ID card/passport/birth certificate);
4. Letter of recommendation (To get a letter of recommendation, you have to take part in IISMA CAMP 2022)
5. Latest academic transcript
IISMA 2022 schedule:
1. Registration: 1 – 31 March 2022
2. Selection: April 2022
3. Awardee announcement: April 2022
4. Preparation for departure: May – August 2022
5. Departure to destination campus: August – September 2022
6. Return to home campus: December 2022 – January 2023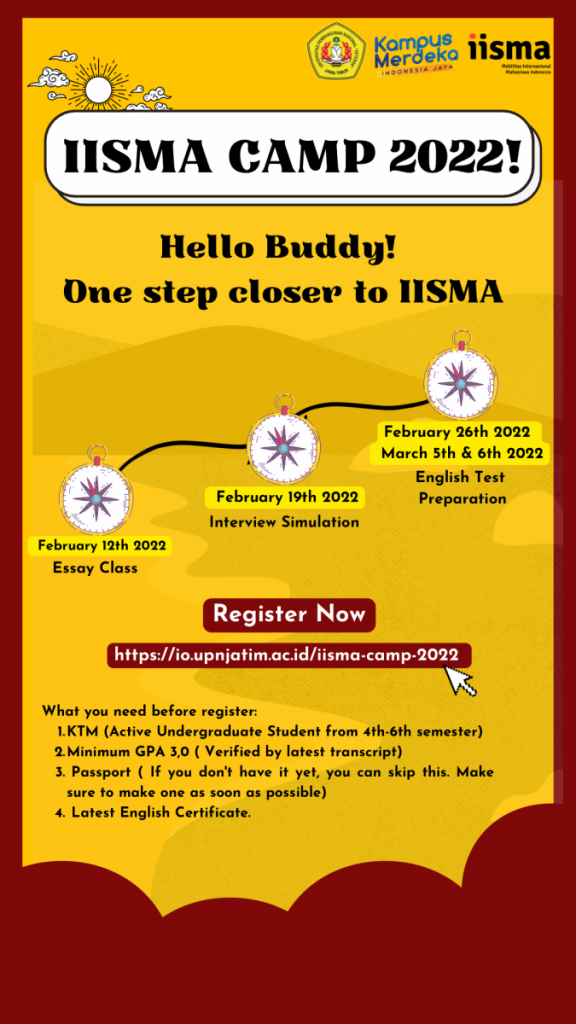 What will you get?
1. Essay class
2. Interview Simulation
3. English Test preparation
Attend all three programs and earn stamps to get a recommendation letter from Wakil Rektor 1.
IISMA CAMP registration is going to close on February 10th. Grab a seat!
Special Reward!

Full and partial Duolingo reimbursement for best IISMA CAMP 2022 participants